At this time of the year, I'm still reviewing and reinforcing, but I'm using Web 2.0 to do it. Honestly, I stumble across new applications, and I force a Math topic into it. Just trying to keep everyone interested. Myself included.
Having said that... this one's just for fun. I have no idea what to do with it.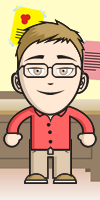 Write it on your communicator:
DoppelMe
.